Presentation
WiComTec is a research group of
the
Department of Signal Theory and Communications
at the
Universitat Politècnica de Catalunya-BarcelonaTech (UPC)
. Our main activity is focused on
the area of Radio Communitations, more specifically on wireless networks, mobile communications and digital broadcasting systems. Our research ranges from the Physical Layer analysis to investigations at the System Level and improvement of new standards. We also deal with the design of new applications in a spread variety of different fields: private radio networks, intelligent transportation, high speed trains, health, agriculture, airports, education...
WiComTec is committed to research activities in close contact with industry to promote the transfer of results into practice. For this reason we actively collaborate in agreements with companies through joint research projects. Besides, a great deal of our basic research is financed through the participation in public funded projects, both, at national and international level. WiComTec has been recognized as an official and consolidated research group by Catalan Government, some of its members having an experience of more than 20 years in the area of Radiocommunication Systems.
Our laboratories are located at the
Castelldefels School of Telecomunications and Aerospace Engineering (EETAC)
. EETAC is a UPC's higher education School and it is specialised in technical and scientific courses in Aeronautics and Telecommunication (BSc, MSc and PhD) with a reputation for excellence in Teaching, Innovation and Quality. Our facilities are in the
Mediterranean Technology Park (PMT)
, which was created to integrate and foster: Research & Development & Innovation, Technology Transfer, Training, Transfer of Human capital, and Promotion of Company initiatives. At the seaside, ten minutes walking to the beach, and in the metropolitan Barcelona area.
Research topics
Mobile (cellular) networks
Propagation, coverage, frequency planning, radio resource m

anagement, interference coordination, propagation model tuning and design.

Physical Layer and MAC research.
Mobility robustness improvement for the different states of the user equipment (idle, inactive, connected...).
Interference reduction (ICIC techniques in the frequency, time and space domain).
Energy efficiency: research on algorithms for cell switch on and off.
Smart backhauling and self backhauling techniques.
Utilization of mmW bands in the access and front/mid/back-haul.
Research on methods for multistate channels and realistic system level analysis.
Self-optimized networks and adaptation. Machine learning based optimization.
Cooperative communications, distributed and MIMO.
Design Green efficient ultra dense small cell based networks, infrastructure sharing and multi-operator.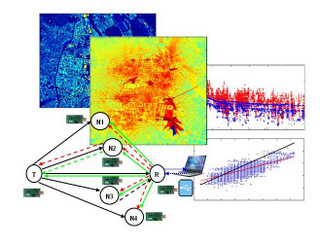 Wireless sensor networks and smart city applications
Research on massive access of machine type communication devices / Internet of Things (IoT).
Design, development, performance evaluation, modelling and optimization of Wireless Sensor Networks for any application environment. In particular, we have deep experience in environment monitoring, WSNs for security support, WSNs for public transportation systems and WSN for green applications to reduce the carbon fingerprint. 
Research on wireless sensor networks for high speed train monitoring.
Design, development, evaluation through prototype development.
Strong experience in commertial product analysis and testing (Bluetooth, ZigBee, WiMax, WiFi, etc).
Smart applications: health, domotics, transportation. Development of applications using Bluetooth, Zigbee and RFID technologies for a wide range of applications in including medical, domotics and information systems.


Wireless broadcasting networks
Our research in broadcasting networks has been mainly contextualized in Digital Video Broadcating in its terrestrial mode (DVB-T/T2). We have contributed to the improvement of its physical layer.
We do also hold strong experience in the development of new algorithms for automatic planning and optimization of broadcasting networks operated as SFN (single frequency networks). Our main research line has been the optimization of the internal static delays so that interference is removed or placed in areas of lower interest for the operator.
Laboratory resources
Regarding laboratory resources and facilities provided for research work, WiComTec currently accounts for its own wireless communication laboratory plus access to common communication labs. We usually develop our own experimental set-ups in our personal space, having:
Simulation cluster used to implement and run our simulation tools.

Developed software: metaheuristic based frequency allocation algorithms (used to plan regional TETRA network), UMTS/LTE system level simulation with relay support, OFDM PHY level simulation with mutual information based link abstraction models, etc

Software for optimization of radio systems: Permanent licenses of Mentum Planet, Wireless Insite, XFtd and XGtd.

Software defined radio devices for prototyping with external common clock with GPS synchronization module.

Faraday Rohde-Schwarz box (RF shield box).

Mobile communication base station emulators:

LTE Rohde-Schwarz

CMW-500

base station emulator.
GSM base station emulator

HP-8922.

Radiant coaxial installation (100 m) @2.4 GHz
Energy efficiency studies:

Hameg power meter for the characterization of power consumption and optimization of energy efficiency.
High sensitivity current probe Keysight N2820A, 2 channels
Solar panels for autonomous systems.

Equipment for the audit of WiFi networks, ZigBee and Bluetooth networks. Wizzimotes, Arduinos, Semtech SX1212.
WIMAX complete communications system.
Professional Digital Field Video Broadcasting Terrestrial DVB-T meter.
Modulator COFDM DVB-T MO-170.
RFID label printer and RFID readers (860-940 MHz and 13.5 MHz).
Generic lab. equipment: Oscilloscope Keysight MSOX4104A (16.500 €), spectrum analyzer, signal generator, combiners, duplexers, antennas, professional soldering station (600 €) for the implementation of the test-beds and their necessary electronic set ups, etc.