Welcome
WiComTec is a research group of
the
Department of Signal Theory and Communications
at the
Universitat Politècnica de Catalunya-BarcelonaTech (UPC)
. Our main activity is focused on
the area of Radio Communitations, more specifically on wireless networks, mobile communications and digital broadcasting systems. Our research ranges from the Physical Layer analysis to investigations at the System Level and improvement of new standards. We also deal with the design of new applications in a spread variety of different fields: private radio networks, intelligent transportation, high speed trains, health, agriculture, airports, education...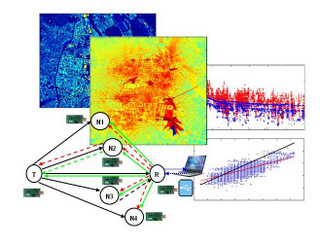 WiComTec is commited to research activities in close contact with industry to promote the transfer of results into practice. For this reason we actively collaborate in agreements with companies through joint research projects. Besides, a great deal of our basic research is financed through the participation in public funded projects, both, at national and international level. WiComTec has been recognized as an official and consolidated research group by Catalan Government, some of its members having an experience of more than 20 years in the area of Radiocommunication Systems
Our laboratories are located at the
Castelldefels School of Telecomunications and Aerospace Engineering (EETAC)
. EETAC is a UPC's higher education School and it is specialised in technical and scientific courses in Aeronautics and Telecommunication (BSc, MSc and PhD) with a reputation for excellence in Teaching, Innovation and Quality. Our facilities are in the
Mediterranean Technology Park (PMT)
, which was created to integrate and foster: Research & Development & Innovation, Technology Transfer, Training, Transfer of Human capital, and Promotion of Company initiatives. At the seaside, ten minutes walking to the beach, and in the metropolitan Barcelona area.